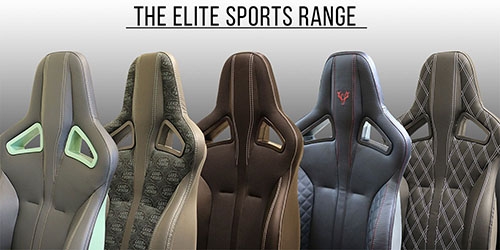 Taking luxury to the next level with the elite sports seat, here at Exmoor Trim we are constantly developing new products and improving old ones. Including this stand out product which to date is one of our biggest achievements! A truly superb all rounder of a seat and here's why...
Designed from the ground up to be the ultimate seat for the Land Rover Defender. The classic sports styling gives you the practicality of a Land Rover and the comfort levels of a Range Rover.
Designed specifically to fit directly into a Land Rover with the same four bolt fittings and your existing Defender seating, the design cleverly utilises the original Defender seat frame ensuring correct fitting and posture with the practicality of everyday use. You are also positioned directly in line with the steering wheel (unlike other sports seats modified to fit a Defender whereby you are positioned at an angle to the steering wheel) and no mounting brackets are required for these seats.
The seat bases are easily removable in exactly the same way as your original factory-fitted front seats by simply releasing the base unit from the frames and runner mounts, giving clear and easy access to any under-seat storage that may be required for battery, fuse or storage access.
The Elite Sports are fitted with seat heaters in the seat backs and bases in both seats. The seat heater kits include a wiring loom and switches allowing for a great upgrade for anyone wanting the benefit of warmth in the winter months.

Although the design of the seat back is extremely comfortable, we have still included the addition of adjustable lumbar supports in the driver and the passenger seats as these are a handy little addition for that comfort fine tuning.
The seat bases are extended to give superior leg support, with strengthened side bolsters to aid the wear and tear of getting in and out of the Defender. The bases have a sleek design, rather than a high-sided bolster, and with clever and subtle shaping we have created a high level of hold and support in the base.
The seat back is higher than the average Defender seat giving much needed support. We have spent many man hours developing the final seat shape which offers the best hold and support in the lower body, whilst allowing the upper body to be free to move which is so important. The seat back also has two harness apertures for style and also practicality for use with a harness-type belt.The seat back panel itself is made from a robust one piece ABS moulding which has a high level of strength whilst being flexible and gives with movement, supporting your body and weight equally over the seat loading.
FEATURES:
Fully bespoke design service available
Ergonomic design for correct posture
Off road hold with on road comfort
Black hard back one piece moulding
Designed for Land Rover driving with lower body hold and upper body movement
Heated with switches and loom - OEM direct plug inRemovable seat base as standard
Extended seat base designed for easy access
Higher integral head support
Choose from our range of finest Scottish leather
Extended leg support
These seats are for someone wanting ultimate comfort and style for the inside of their Land Rover. Want to know more? Give us a call or email here or why not pop us a message on our Facebook, Instagram or Twitter.