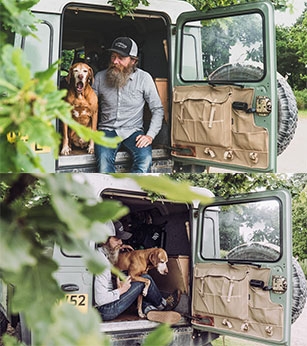 Land Rover and Hound (Sam and Gio) visited Exmoor Trim HQ to explore our factory, R&D and fitting centre yesterday. We got to know a little more about the Land Rover enthusiast and what he and the hound have in store for this year...
What is your favourite Exmoor Trim product and why?
The new Harris Tweed interior/seats have to be my favourite, but I do love the rear door card as that is where I store my chef's knives!
How many Land Rovers have you had in your lifetime?
I have had three, first when I was 18 was a mid-era, 1980 I think, series 3 which hopefully will soon be back in my possession - watch this space. Next a Freelander 1, these sometimes get stick for not being a "proper" Land Rover but this is not fair, it's a brilliant vehicle. And most recently, of course, my Defender 110 TD5. Just three of my own but between Brothers and my Dad we have had almost every model of Discovery and Range Rover, other Defenders and also a special extended body Range Rover classic.
Does Gio (The Hound) come everywhere with you?
Gio goes everywhere with me, loving life on the road and gets to explore new surroundings on a daily basis. In fact, I use him to stalk for Deer then he goes back in the Landy whilst I film.
If you could drive any Land Rover in the world what would it be and why?
I along with most Landy Fans would probably have to say HUE 166, but I have a soft spot for the 1956 Land Rover Series 1 107" Station Wagon in the Dunsfold collection so would find it hard to choose.
What's your favourite feature on the new Exmoor Trim Lock Box?
The quality and strength of the construction are impressive.
What's been your best Landy adventure yet?
Scotland for three months last year was incredible, especially my travels near Ullapool during extremely snowy conditions when on one day I only saw three other vehicles in 40 miles. Also driving into the Quirang on Skye from the top mountain road route when it was actually closed. sheet ice meant it took over an hour to go two miles (next time I won't forget my chains!) but it was so worth it to have the whole place to myself, a very rare occurrence for this much visited yet stunning landscape. I filmed the whole of this trip and am in the process of making some short films.
Do you have any further Land Rover excursions set for this year?
I will be returning to Scotland as I have unfinished business with a few mountains I want to climb, conditions were too dangerous on the last trip to even attempt them on my own. Plus I want to concentrate on filming different species this trip, specifically Golden and White Tailed Sea eagles.
What are your necessities when you're on your Land Rover adventures?
My Harkila Stalking boots, keep my feet dry and warm even in below zero temperatures in the worst of peat bogs in the highland wilderness. My winter wetsuit, essential for filming in water and also diving for crabs and other delights from the sea! My Opinel knives, you should always have at least one of these with you such a versatile knife. Of course my camera kit but that goes without saying which I now store in my canvas wheel cover storage bag!
What Exmoor Trim vehicle is your favourite and why?
My favourite Exmoor trim vehicle is Tweedy, I know its not old or a classic but the interior literally takes your breath away when you first see it, and it is not just me, every person who looked inside whilst I was there at the Royal Cornwall Show uttered some sort of gasped compliment under their breath.
Lastly what 3 people would you pick to travel around in your Land Rover for 3 months?
If we are talking celebrities then David Attenborough, the wildlife cameraman Gordon Buchanan, and also another cameraman and my all-time wildlife hero Paul Nicklen, look up his work especially the famous dive with a huge Leopard seal you would need three years not three months and even then it would not get boring listening to their stories.
Check out Land Rover and Hound's Landy adventures here: Land Rover and Hound