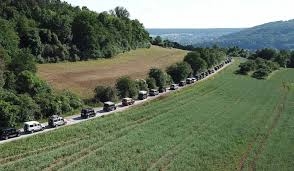 The Largest parade of Land Rover/Range Rovers is taking place this Saturday 30th June 5pm. The record to beat featured 632 vehicles and was achieved in Germany in May 2018.
'Land Rover turns 70 in 2018 and we wanted to do something really special to celebrate this milestone. What could be better than setting a World Record in your own Land Rover for the 'Largest Parade of Land Rovers'?
— Sarah Arrowsmith, show organiser
Keep updated with the parade on our Instagram story this Saturday where we will have a takeover from @land_rover_defender, make sure to turn on your notifications and follow Exmoor Trim Instagram here.
Are you attending? Here's what you need to know!
RULES OF THE PARADE
All vehicles must never be more than 2 vehicle lengths from the one in front
The parade exceeds 2 miles
You must follow the vehicle in front, no overtaking
No stopping for toilet breaks, swapping drivers or any other reason, once you have gone through the start.
Land Rovers of any age and type are welcome, all vehicles must have a Land Rover badge
The course will be tracks and grass, suitable for all vehicles
Every participant will be photographed as they go through the start and the finish and also by a drone throughout the parade
HINTS FOR PARTICIPANTS
Please make sure you have plenty of fuel
Be sure to have a stock of water and soft drinks in your vehicle, in case of hot weather
There is a toilet in the registration area to be used before you start if necessary.
The parade will take approx. 40 minutes
There will be a drone photographing throughout the parade checking that you are no more than two vehicle lengths from the one in front
In the case of a breakdown, pull over to the side to allow the vehicles behind to continue and 'fill' your space as soon as possible
Please do not stop at the end until you reach the demonstration area if one vehicle stops it will bring the whole parade to a standstill
Want to join in? Head over to the Billing Off Road Experience and book your place here.