Here at Exmoor Trim, we pride ourselves on quality and consistency. This Red 90 came in a slightly different vehicle, the Exmoor Trim fitting centre worked their magic and produced a beauty. Find out exactly what we did below, or why not come and view it yourself and speak to the team at the Devon County Show...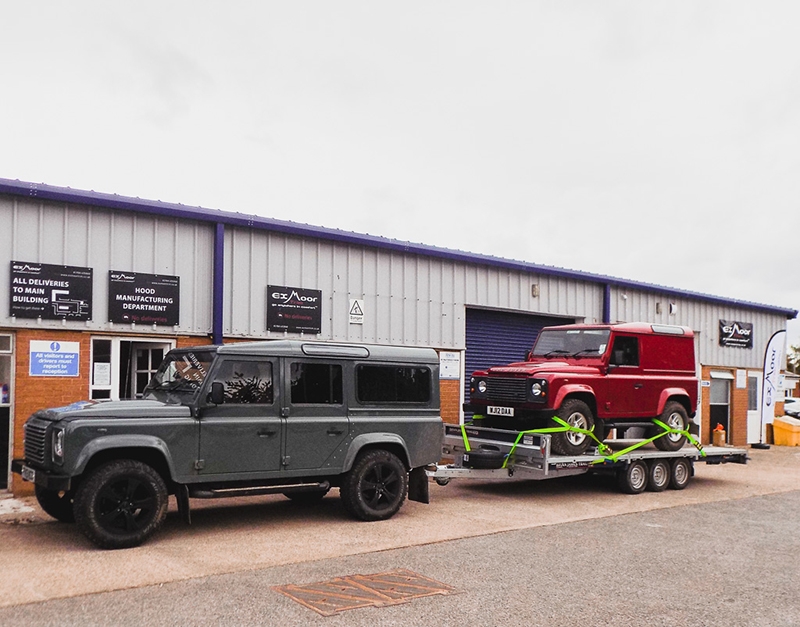 Here's the Red 90 arriving at Exmoor Trim fitting centre HQ.
The guy's got to work on the vehicle straight away after it's arrival, starting off with the interior...
Interior alterations made:

Bulkhead removal kit.

Full Premium Carpet set including red leather gaiters.

Leather door cards and leather wrapped alloy door handles.

Elite Sports heated seats bespoke leather, fitted on Seat Risers.

New Premium Leather Cubby Box.

Williams Leather Steering Wheel on Slimline Boss.

Bespoke leather dash binnacle, crash pad and grab handle.

Black Rear Side Panels.

Black Alcantara Headliner with LED lighting.

After the interior modifications had been made the team moved onto the exterior.
Exterior alterations made:
March 2012 reg date
2198 cc TDCI
Firenze Red Code LRC868
51140 Miles, New Engine Fitted by Land Rover, less than 100 Miles, Full History.
Fitted with:- (load Lane) branding.
Black "Hofele Design" Alloy Wheels 8.5" x 18" with adaptors.
265 x 65 x 18" B F Goodrich All-Terrain Tyres, New.
Rock Sliders.
New Front Bumper with Twin Driving Lights.
LED Headlights
Smoke LED light set including reversing and fog lights.
Face Lift Mesh Grill Kit Gloss Black.
Wing Protectors Rear Black.
Wing Protectors Front Black Checker Plate.
Forced Induction air scoops.
Raised Air Intake (Snorkel).
Rear Door Swinging Spare Wheel Carrier.

What do you guy's think? Head over to our Facebook and let us know!
If you are looking to start your Land Rover journey, please don't hesitate to contact the Fitting Centre to get booked in today!
WATCH THE RED 90 HERE: