Re-introducing the TYGAN material to Exmoor Trim, find out how and why we wanted to reproduce this fabric for our products.
Some may ask what Tygan Woven material is? Well it was used in Land Rover production from 1954 to 1958 and mostly used on export vehicles, Station wagons 86" & 107" (inc 88" & 109" series one).
The original Tygan was a fine woven Nylon a bit like a deckchair material which had its own inherent problems in the trim shop and for customers. It was a very difficult material to work with - the cloth backing that had to be applied to keep the panels stable during the sewing process, it was not a liked material by the machines at the time when all the trim was made in house at the Lode Lane factory.
Lew Gostling recalls: "We had terrible trouble cutting and sewing this material, with it being a nylon it was a very slippery fabric to work with, that said it did have a very particular look at the time. The other problem we encountered over time was that many professional gentlemen would complain about how the nylon would polish an area on their suit trousers and jacket backs as they climbed in and out of the vehicle. The woven nylon had a good buffing effect, so this issue was phased out towards the end of the series one production."
Julian & Lew Gostling set about reproducing the Tygan material in a modern way without the pitfalls of the original material and still retaining that classic 50's style look and feel. It was decided that by using modern high-grade vinyl with the finished print and then applying with a specifically reproduced roller to leave the correct imprint on the material surface was the way to attack this challenge.
Material Choice: Why not a Woven fabric? High Grade Vinyl with a strong knitted backing was the end decision rather than a woven face which offered flexibility in what could be achieved and a very nice end material to work with and obvious quality.
Colour matching: How was this done? Lew & Julian felt the only way to get this correct was to be at the factory at the time of production and make sure the colour matching was perfect to the original and who better to put under the spot light but Lew Gostling as he did the original material back in the 50's.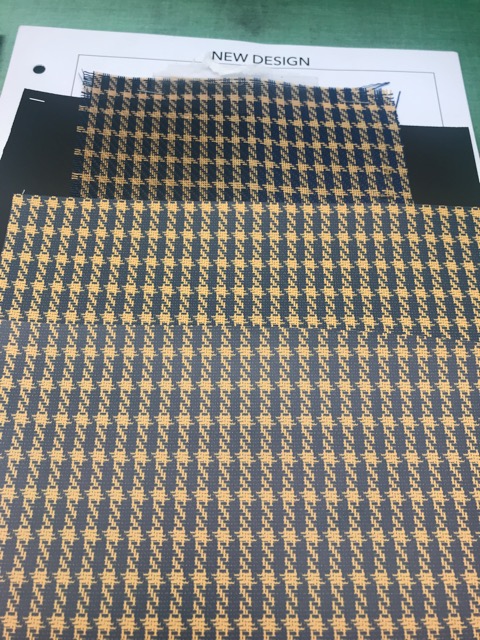 Getting the colour chart as close as we can to the original (top sample)
By adding extra colour through the process at different stages we could adjust the colour on the material run and sample each metre until we had it perfect, it comes out looking slightly lighter/duller than the original which is fine then by the time we had applied the lacquer finish this would enhance the colour again. It was a long day but what a great result.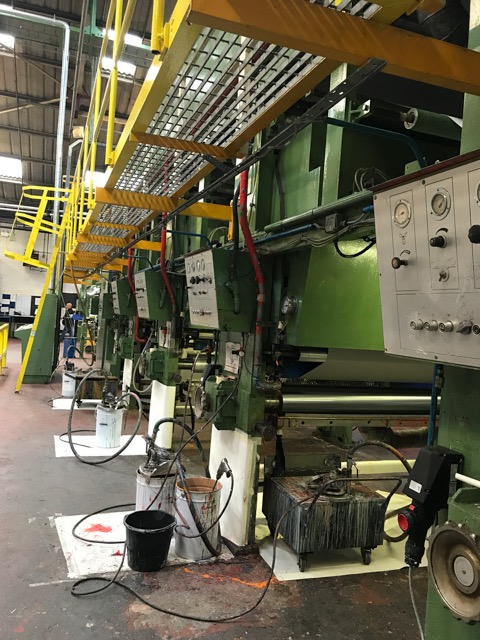 Colour application being added
Applying the texture: How was this achieved? This was the crucial part of the finish as so far the material face is still smooth, the decision was made to invest in a new roller to apply the textured finish that was desired to give the look and feel of a woven surface, so when you run your hand over it you can feel every texture. This was a long process in having a new roller made though it means we can now produce this material for many years to come.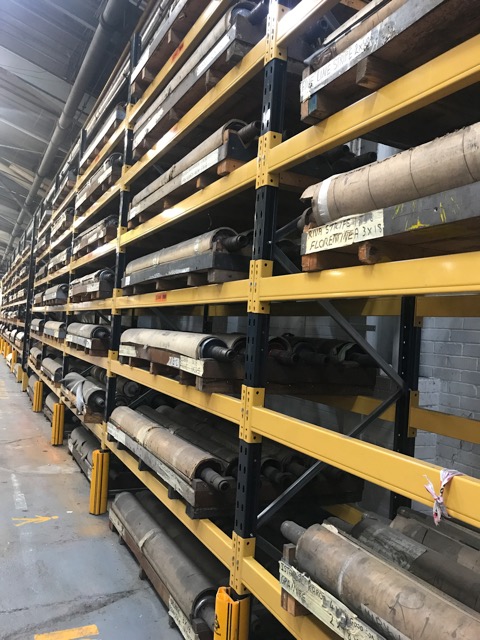 The finished textured roller ready to go...
End result: Are you pleased? Yes, we are very pleased we have matched the seats very well and kept all of its historical features with a hard wearing and practical Vinyl. It's great to sew, won't polish your clothes! and looks great. It's always a risk to do a product run for these old materials but we need to keep on producing new options and making sure that customers have a great choice for their series one Seats and interior trim.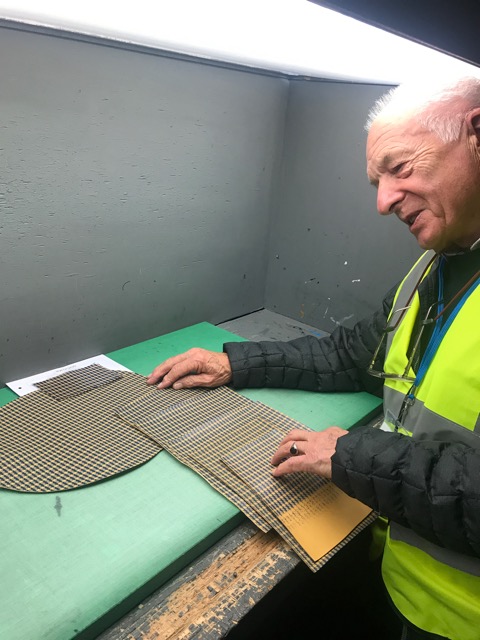 Lew Gostling casting his eye over the material for approval - a happy result!
"Tygan for me is stunning and has that very retro look, we already have a couple of vehicle interiors to produce for the 107" – Julian Gostling Chairman of Exmoor Trim.
Series I 86" Style Back Full Seat Set Tygan Vinyl SHOP HERE