Lockdown Diary Week 5 With @theclassicseries
"Much has been written about life in lockdown. At times over the past few months, you could be forgiven for thinking there was little else happening outside of coronavirus, whether in your local community, country or across the world. We've been inundated with legislation change, official advice, recommendations, rumour and misinformation. Difficult as it has been at times to cut through the dominance of the pandemic, it has been heart-warming to witness some of the acts of kindness both big and small, but equally how people have reconnected with old fashioned values such as time with family at home and an uptake in natural pursuits and exercise. Who else has discovered previously unknown local walking routes or areas for natural play?
Like so many across the UK, my family's life suddenly changed in March. With the closure of workplaces and shops, my wife and I switched to full-time home working, our children swapped school desks for bedroom desks and we all shared the same space for our daily routines.
The first few days were a mix of excitement, apprehension and distraction as we watched our local community retreat indoors and outside fell silent. In those early weeks that followed, we were immediately thankful for some of the simple pleasures and privileges, such as our small garden, the countryside and woodland we're lucky enough to live next to and turning to new ways to entertain ourselves at home and within our permitted periods of exercise.
One thing I certainly missed, as did many petrolheads I'm sure, was not being able to take to the open road for a drive, especially as we had such glorious weather and that the roads themselves had never been so empty and inviting. Despite the temptation, I held fast and abided by the rules but did elect to always choose our Landy for the few essential journeys we did have to make. Those short infrequent trips to run errands for neighbours or do a 'big shop', were truly moments of driving pleasure. Even now as restrictions have eased, it seems silly to say that. However as someone who lives a life of classic cars as part of their everyday life, those little moments of historic motoring freedom were cherished.
In normal circumstances, our Series III serves family life in all manner of means, whether it's school runs, shopping trips, collecting my wife's latest upcycling project, weekend micro-adventures to the forest or joining like-minded Land Rover owners at a show. It is a daily driver and workhorse.
On reflection, our old Land Rover also played a small but anchoring role during lockdown. With our Series III largely confined to barracks, my kids quickly swapped outings in Landy for driveway adventures. As a parked-up playground, it found new purpose as a versatile object of roleplay. The Exmoor Trim canvas hood continually came on and off depending on the need to evade baddies. Clambering over bonnet, wings and wheels was done with deft footwork, as they avoided an horrific bloodthirsty death, owing to the imaginary cliff face that lingered inches from their getaway vehicle. Door tops removed naturally meant Dukes of Hazard style entry and exit, while exposed hood sticks made for a dramatic feet-in-the-air launch over the rear tail gate.
I'm sure some may wince at their Land Rover being used in such a way, but I'm very much in the camp of classic cars being used, enjoyed and ultimately to make memories. Whether that's an epic journey, a ground up restoration or a driveway drama, they should bring joy and lasting experiences to treasure. By no means belittling the tough times people have and continue to endure, there has certainly been space and time in lockdown that was uplifting, enjoyable and fun for all the family."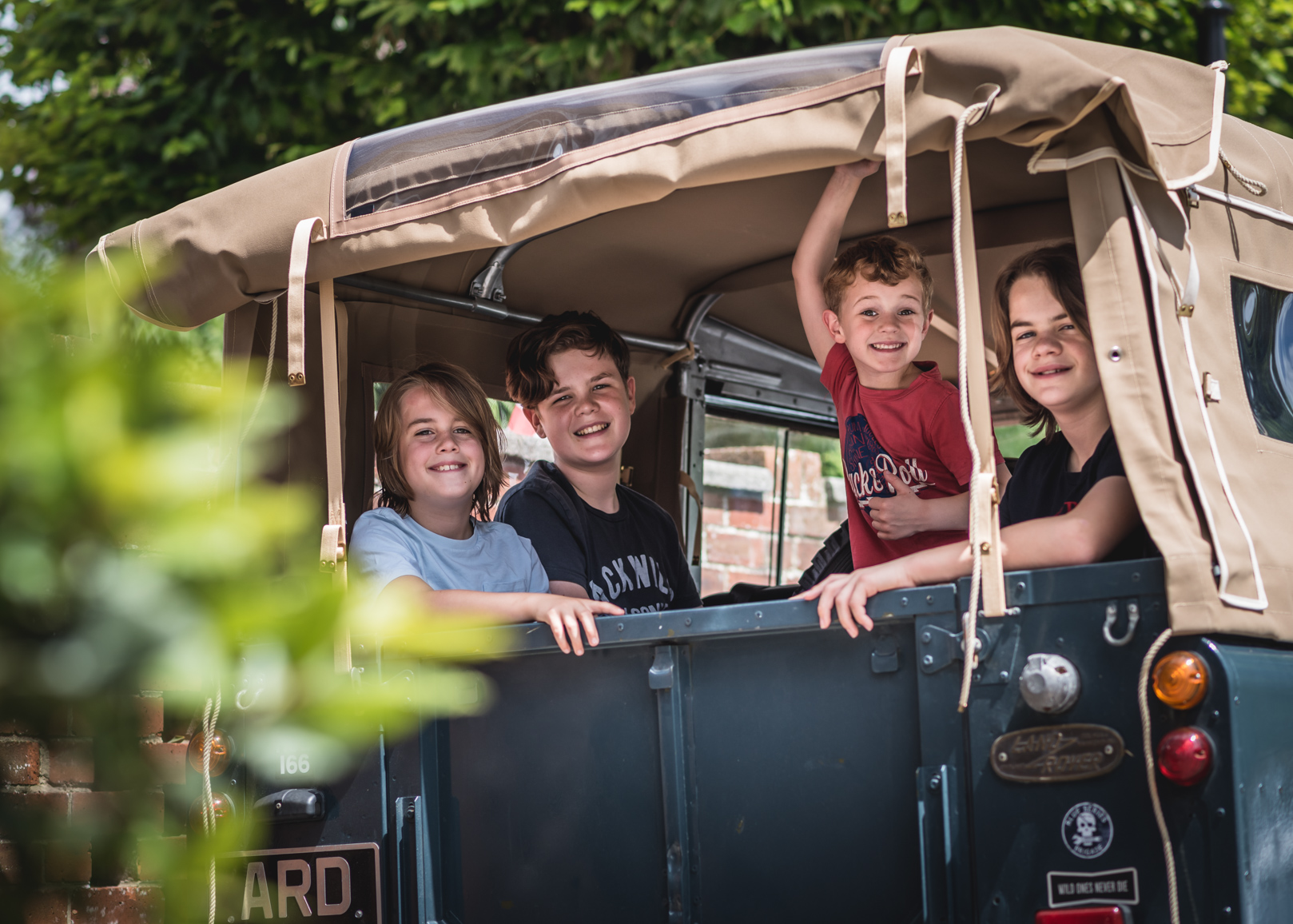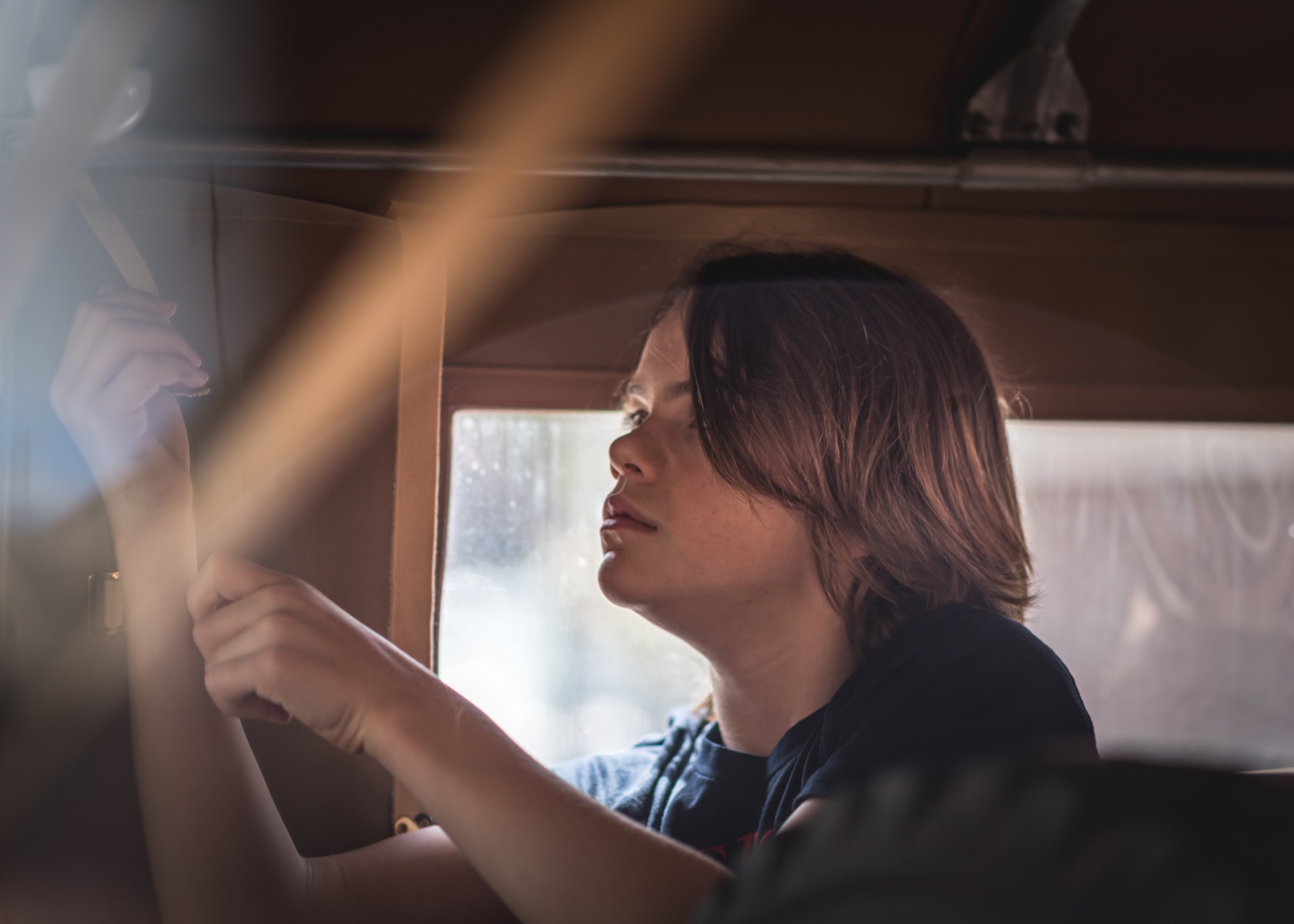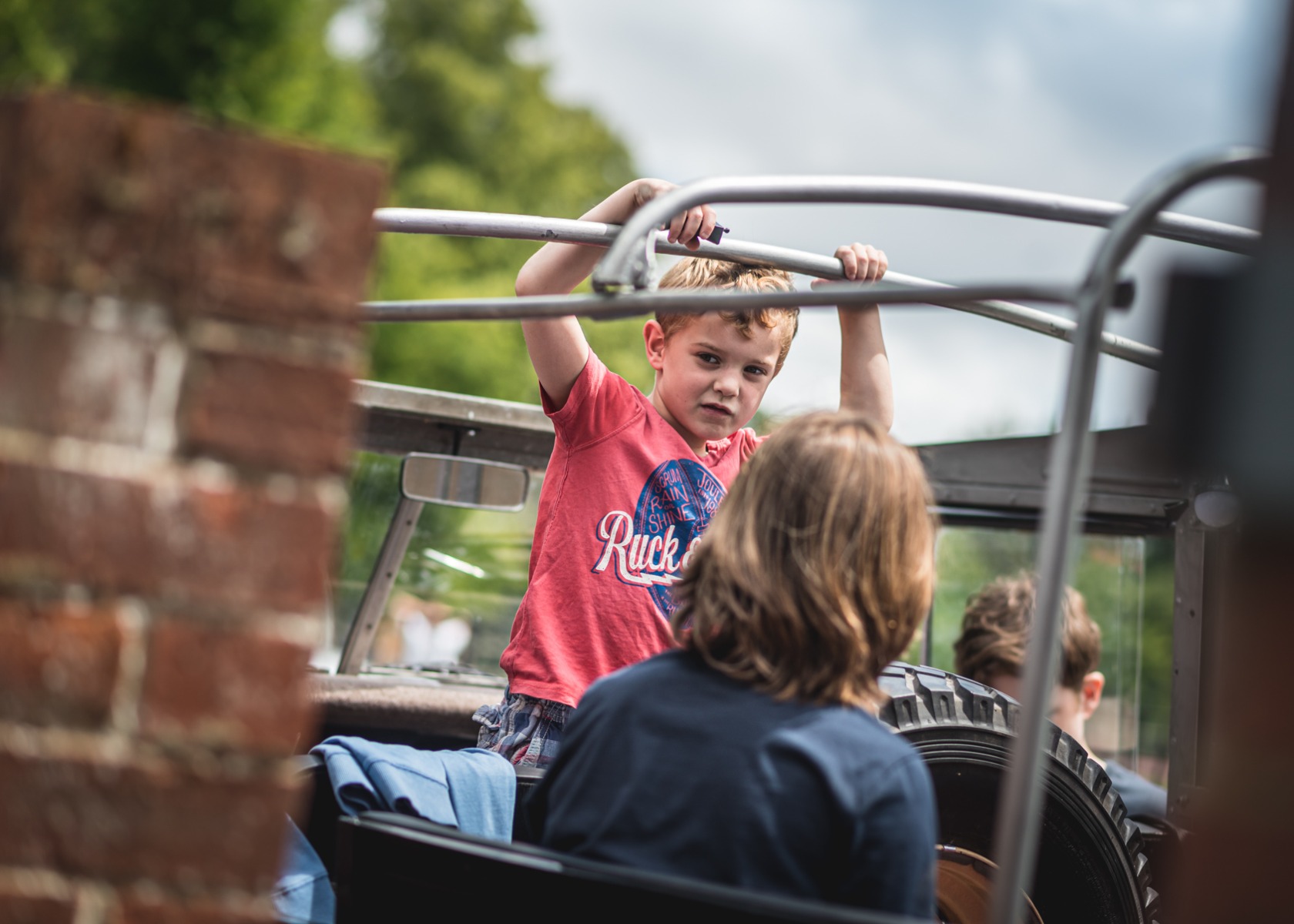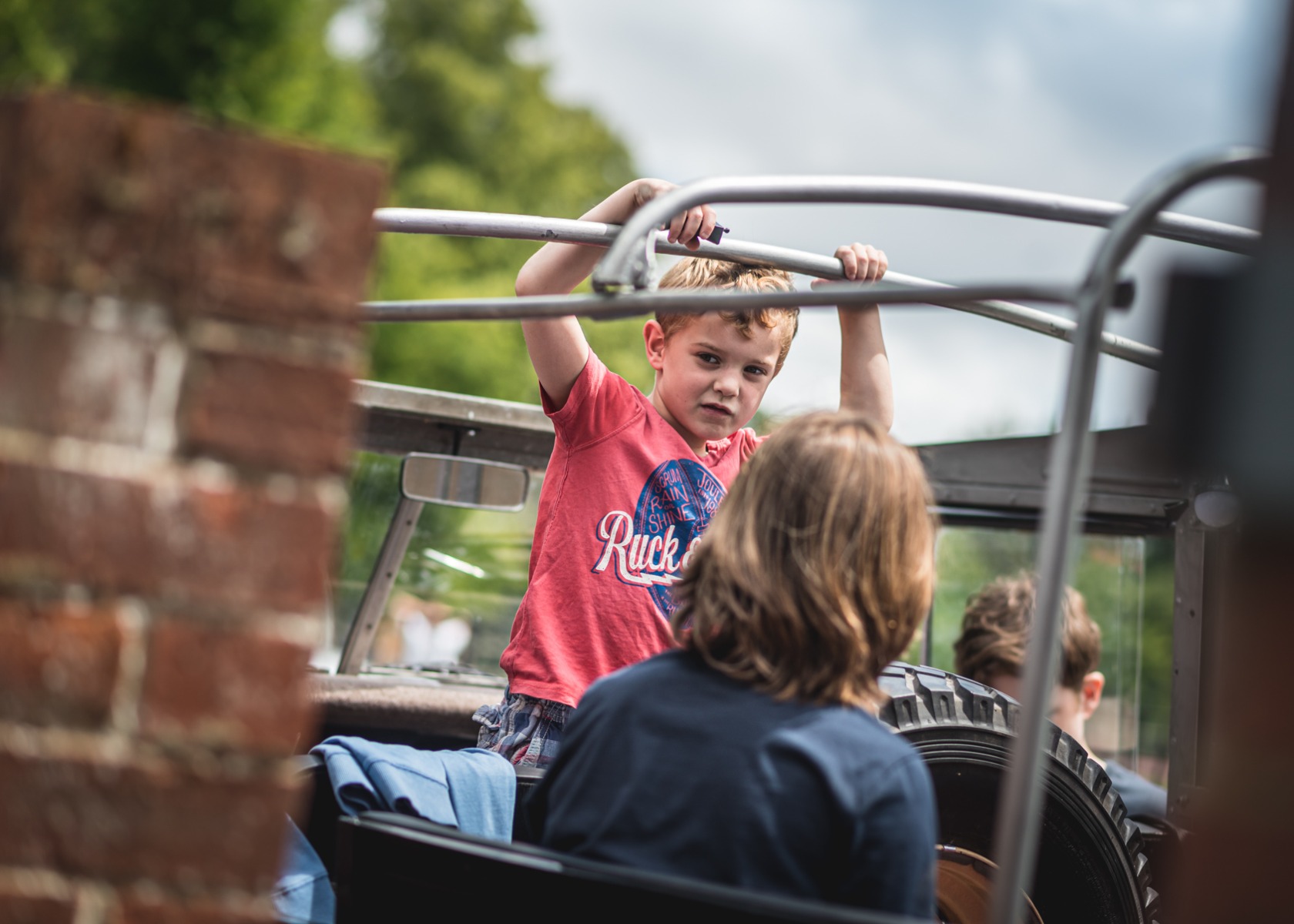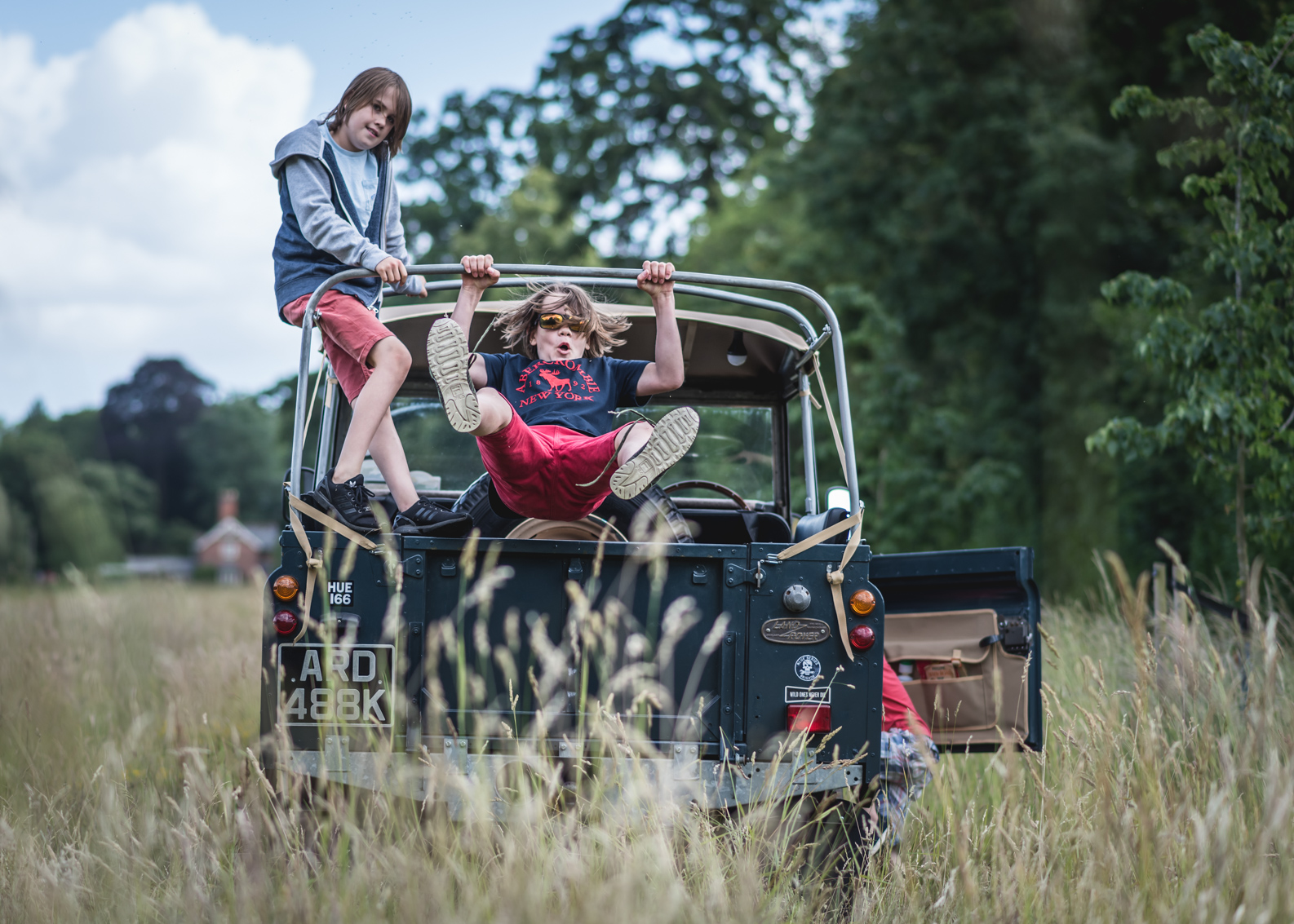 SHOP 88" FULL CANVAS HOOD PHOTOGRAPHED HERE
SHOP 88" FULL HOOD STICK SET PHOTOGRAPHED HERE
SHOP 88" BIKINI HOOD PHOTOGRAPHED HERE
SHOP 88" BIKINI HOOD STICK SET PHOTOGRAPHED HERE
SHOP CANVAS FRONT DOOR CARDS HERE
SHOP EVANDER WOOD RIM STEERING WHEEL HERE