Head of Product Development John Pettinger recently visited the UK based OEM producer for our seating vinyl's. We have been working hard to ensure all our vinyl's are made to the very highest standard and technically correct for our customers and their Land Rovers.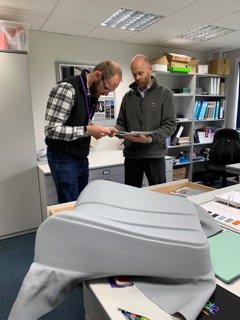 (Head of Product Development with designer Lucas in the design room looking at samples)
We went along to their head office to see the first run of our new Palomino Vinyl for the Classic Range Rover range where we have been working closely with their top designer Lucas and with his help delve into the archives to discover a original early print roller for the face texture and grain.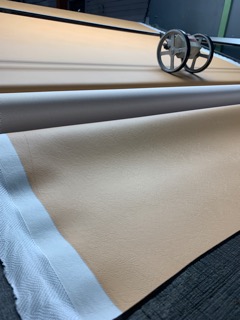 (Close up of the grain on inspection table)
It's an amazing process with an incredible environmental process where everything is recycled even the air is purified before it leaves the buildings.
The coloured PVC top coating is applied to a paper base and as it cures onto the paper the next woven backing is applied for strength and durability.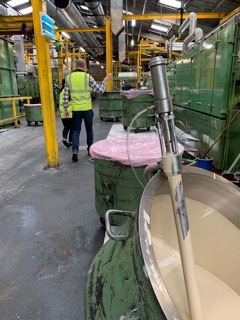 (The PVC melted in a large tub in the factory)
At the end of the process the paper is separated from the PVC cleaned and recycled leaving the PVC vinyl coating firmly bonded to the woven backing.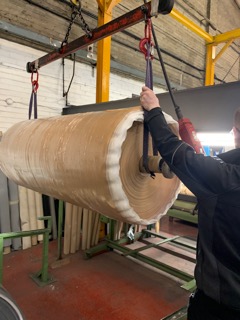 (Vinyl moving through the machines)
At this point the face of the vinyl has the correct colour but no grain and is just smooth, so the huge rolls are averaging 300 meters plus. We then go on to the next process of applying the chosen grain finish for these historic vehicles.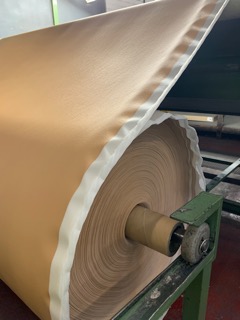 (Roll coming off the machine and being rolled up!)
The vinyl now passes through another machine and heated until very soft and immediately passes through the chosen classic grain roller. These are solid metal rollers in stainless steel and weigh in excess of 350Kg, as the vinyl passes over the roller the grain is imprinted onto the surface of the vinyl producing the correct end product.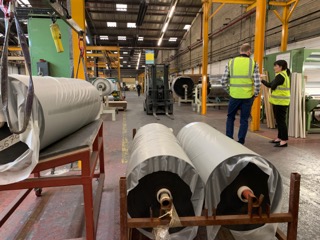 It's a fascinating process with huge variants and the skills required are certainly imbedded in this great British Company who originally produced this vinyl back in the 70's.
The finished vinyl was inspected for overall detail and consistency and signed off ready for the production of Classic Range Rover interiors at Exmoor Trim available soon.